Want to cycle in Taiwan but don't know where to start? This guide will help you plan and prepare for your trip. In this guide, we want to give you all the information needed to prepare and enjoy yourself in Taiwan. If you have any questions after reading this guide, feel free to

send us a message!
The Taiwan Cycle Route No.1 (環島1號線) is a 968 km (602 mile) bicycle route around the island of Taiwan. This route is mainly intended to increase the use of recreational activity of cycling around the island of Taiwan, which is called huan-dao (環島). The route was developed by the Ministry of Transportation on December 30, 2015.
The route is clearly marked with road signs and road markings. The route contains a mixture of dedicated bicycle paths, less-traveled country roads, and busier roads with dedicated cycle lanes. The route can be started at any point, but the initial 0 kilometer marking is at Songshan Station in Taipei.
The entire route will generally take 9-12 days to complete. You can also choose to take your time and cycle around for 3 weeks. Most cyclists will choose to cycle counter-clock wise so as to avoid the wind and be more prepared for the difficult east side. However, if you are short on time, I would recommend doing the east side; it will be more rewarding!
Click on the image for a high resolution PDF.
Distance and Route Options
You must plan how far you want to cycle in a day. Most people try to cover 100km a day. Focusing on distance can be a huge mistake though; Taiwan has a lot of great sights to offer along the way. Try to aim for 80% of your maximum distance per day so you do not burn yourself out. Set a goal for each day to keep yourself on schedule.
Our personal tip for planning your route:
use the smaller roads whenever possible. The smaller roads are less maintained but, the main roads can, at most times, be too hectic.
​
The most difficult thing about setting off on this journey is finding the determination to get it done. You want to make sure you are physically fit for the journey. If you are currently riding 50km or more per week, then you shouldn't have a problem completing the trip.
You also want to be comfortable with riding 70-100km every other day if possible.
​
During this cycling trip you will be exerting a lot of energy. It is recommended that you eat plenty of calorie-rich foods to keep you going everyday.

Try to consume 30-60 carbs for every hour of exercise.

But do not over-fuel; you will make yourself sick. You should also try to consume some food within two hours after reaching your destination.
It is important to stay hydrated so that you do not cramp up. If you feel thirsty, then it is already too late. You should take a 15 minute rest and re-hydrate.

Try to consume 500mL for every hour of cycling under normal weather conditions.
​
The roads in Taiwan are mostly tarmac and well-maintained. The main route around Taiwan is flat. If you decide to cycle further into the middle of Taiwan it will get steep very quickly.

Be prepared to climb some hills if you decide to cut through the middle of Taiwan. You can expect some climbs up to 27% gradient and an average of 5-10%
Gradient map of Taiwan Cycling Route + Mountains.

credit
A helpful tip:

there are Bicycle aid stations placed all along the cycling route around Taiwan.

Here is a full list.

There, you can fix your bicycle, and possibly find snacks and water. All police stations along the route are official aid stations. You can even stay overnight as a last resort.
​
If you are concerned about safety, do not worry!

Taiwan is a very safe place to cycle. In Taiwan we drive on the right-hand side of the road.

Here is a list of the

bicycle laws

in Taiwan. Generally stay off the main roads when possible and you will have a great time!
Tips for biking in the rain:

It rains a lot in Taiwan and you may need to cycle in the rain. All convenience stores sell a rain poncho for $39NT.
​
It works well at keeping your upper body dry. You may also want to wear sandals while riding to prevent soggy shoes. Make sure you have a front and rear light on, even during the day to increase your visibility.
If you are new to bicycle touring and have never done a multi-day cycle trip before, check out

Cycloscope's article

about getting started!
​
If you want some inspiration, check out these amazing cyclists that have completed and documented their journeys.
​
What will you bring on your bike with you? You could go all out with 4 panniers on your bike and waterproof gear, or you could go minimal and use hotels along the way. You must decide what you absolutely need to make the journey comfortable. If you bring too much stuff, you will be stuck with it for the entire journey.
Remember, less is more!
​
If you have a racing road bike, you may not be able to carry much stuff and it will not be as comfortable. If you have a mountain bike, just throw on some skinny road tires and you are good to go!
There is some debate on whether you should get clipped in shoes or not for this trip.
If you plan to climb more hills, then we would recommended straps on your pedals or get yourself some SPD pedals and Mountain biking shoes.
If you are wondering what you should bring, we have compiled a small list of the essentials. Of course the gear and accessories will change based on the season you are going and what you want to get out of your trip. If you are camping you will want more gear than if you will use hostels and hotels.
• Two pairs of cycling clothes
• Two pair of casual clothes
• One pair of hiking clothes
• Rain gear
• Bicycle Rear Kit
• Water bottle 1L or more
• Helmet
• Sunglasses
• Sun screen
• Flip-flops or sandals
• Bicycle lights
• Bicycle lock
**Generally you can fit everything you need into two 10L panniers. We would advise against wearing a backpack for the journey.
Helpful Tip:
When using waterproof panniers or bags, it's recommended that you still put your important items and clothes in a
roll top dry bag
for extra security. There is nothing worse than cycling for 100km and have nothing dry to change into...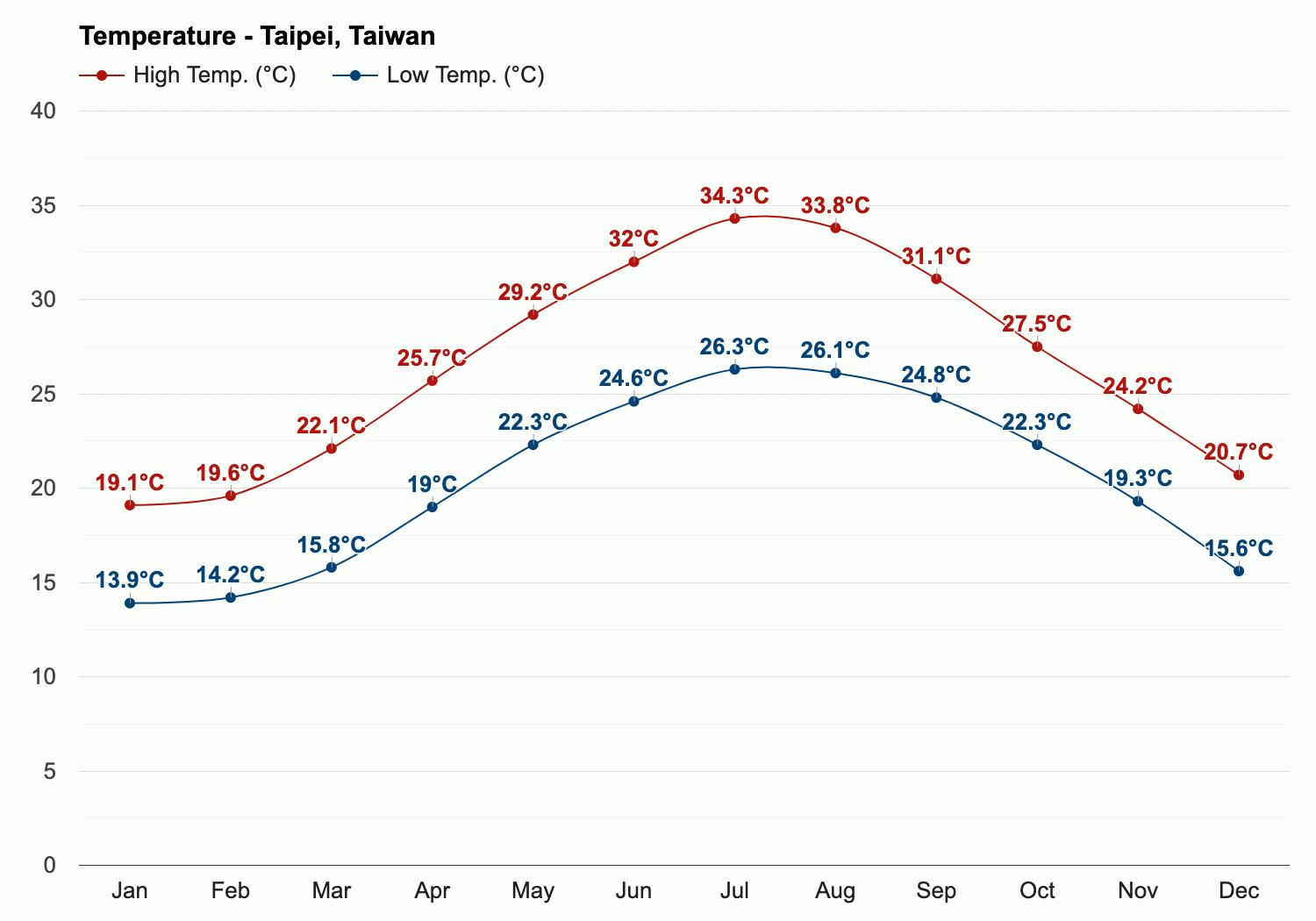 You must carefully choose the season to arrive in Taiwan. The best time to cycle is generally all year except the summer months. There is less rain, and the average temperatures range from 19-24c.
If you plan to cycle in the summer, the temperatures can range from 29-35c. It is not advisable to go during this time, however
i
f you are cycling in the summer time you want to avoid the heat of the day, start cycling as early as you can. Try to get as many kilometers in as you can between 6-9am.
In the fall, the temperatures range from 20-27c. In early fall, there is more of a chance of typhoons and long rainy weeks. Bring your waterproof gear and plan for delays on your trip.
Traveling in Taiwan, like much of Asia, is quite affordable. Meals will typically cost $50NT for typical Taiwanese/Chinese food and as much as $500NT for nicer western styled food. Drinks and snacks are relatively cheap.
Hotels in Taiwan will cost on average $1200NT-$1500/night for a single person room. Hostels are considerably cheaper at $300-$700NT per night, per person.
​
Campgrounds will cost $150-$300NT per tent on weekdays and $300-$500NT on weekends.
​
Public transport is very affordable and cheap. The longest train ride will run you less than $800NT. The High Speed Rail is more expensive at $2000NT.
Not all forms of transportation allow bicycles.
Buses are plenty and cheap. Use this
guide for transporting
your bicycle around Taiwan.
Now that you have your route planned, your supplies are sorted out, and you have a timetable, you need to pick out where you will be staying every night. If you choose to save some money and camp every night,
Follow Xiaofei
is a great resource for finding local campsites, hiking trails, and hidden waterfalls.
If you choose to carry less gear, then your options are to stay at hostels/hotels around Taiwan. Taiwan is lucky to also have the option of
AirBnB.
If none of those options work out for you, you are always welcome to stay overnight at a local police station, elementary school, or national park. They are more than happy to help you out.
I'm hungry, where can I eat?
There are plenty of 711's and other convenience stores around Taiwan that have not just snacks but healthy dinner and lunch options should you find yourself unprepared.
​
I got a flat tire and I don't know how to fix it. What can I do?
Don't give up just yet! There are plenty of options. Most Taiwanese are very helpful and can give you a lift to the nearest shop. Police stations should all have some sort of tool kit on hand to help. You can visit any scooter shop and they should be able to help you patch your tube in the meantime. Learn how to repair your tire before you set off.
​
I can't make the rest of the journey, I need to take a train home or ship my bike. How do I do this?
It's very simple actually. Just go to any TRA station and go to the counter. It will cost you an extra ticket to carry your bicycle with you. Be aware that if you ship your bicycle back to Taipei, it will not go to Main Station, you can only pick it up from Songshan or Wanhua station. It will take up to 36 hours to ship your bike and do not lose your receipt. For more information about bicycles on trains, check out this extensive guide in English.
​
I don't speak the local language, can you help me?
No problem! Many Taiwanese will still go out of their way to help.
​
What if I want to rent a bike, what are my options?
You could rent the bicycle and accessories from us, or you could rent the bicycle from any Giant store in Taiwan. You must give the Giant store at least a 2 week notice (1-2 months notice is best) to reserve your bicycle and you must use a credit card or bank transfer from a Taiwan bank account.
​
I do not know what routes to take, can you help me plan?
Sure! We have years of experience traveling and cycling in Taiwan. We can help you plan your route to the best of your ability and pace to make the trip as fun as possible for you! Here is also a list of routes you might want to include on your trip. Taiwan Bureau of Tourism also has a PDF outlining a 9 day itinerary.
Power outlets in Taiwan are standard US style and also 110V.
​
Bicycle theft is not common here. You will see most cyclists not locking up their bikes during short breaks.
​
​
PER DAY
Bicycle + Panniers
6 DAYS
Bicycle + Panniers
10 DAYS
Bicycle + Panniers
15 DAYS
Bicycle + Panniers